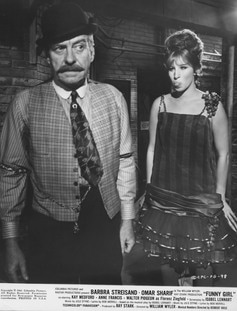 Barbra Streisand has not made a ton of movies in her long award winning career, but there are five that stand out as the best of her films.
#1 Funny Girl – Can't beat the first movie she made based on the life of Fanny Brice. She played this role on Broadway and was the ONLY one who could do it justice. An Oscar winning performance filled with memorable songs like People and Don't Rain On My Parade!
#2 The Way We Were – The teaming of Barbra and Robert Redford is a dynamite duo for the love story set during the 1940's and 50's. The song of the same name composed by Marvin Hamlisch and lyrics by Marilyn and Alan Bergman will have you weeping by the end of the flick.
#3 Yentl – Based on Isaac Bashevis Singer's short story Yentl the Yeshiva Boy, this film took Barbra 16 years to bring to the screen. She wrote, produced, directed acted and sang in this beautiful story of a young girl who wanted to study the Talmud, during a time when it was forbidden. 
#4 The Prince of Tides – Based on Pat Conroy's best seller of the same name, Barbra directed this masterpiece paying close attention to detail and content. Another deep movie with lots of sub plots and themes that will take you on an emotional journey by the film's end.
#5 What's Up Doc? – A screwball comedy starring Barbra and handsome Ryan O'Neal. The plot may not be Shakespeare, but the high-jinks are contagious and who doesn't love a good chase scene through San Francisco.
Honorable Mention – A Star is Born – From 1976 a film about rock and roll and the ups and downs of careers. A true fan favorite with the hit song "Evergreen". I have seen this movie more than all the rest! So many wonderful songs! Great soundtrack album!
While I love so many of Barbra's other movies for other reasons, I could sit and watch these over and over (and have). What are your top five?