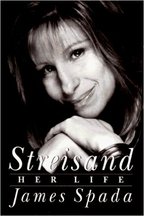 You may be reading this blog post as a long time Streisand fan, or perhaps you are following a link in the Ultimate Blog Challenge just to check it out. Either way I have selected some of Barbra's work as the must have/watch/listen for movies, songs, albums and books.
You may agree or disagree, but please share with me what your choices might be. There are no right or wrong choices, but I'm going to give a few basic arguments for why I've picked these Barbra favorites!
Best of Barbra – Movie – FUNNY GIRL
If you have to pick one movie to watch, it has to be the 1968 Columbia Pictures release of FUNNY GIRL. Barbra played Fanny Brice and co-stared with the late great Omar Sharif as Nicky Arnstein. Barbra won the Academy Award in a tie with Katherine Hepburn for The Lion in Winter. Ms. Hepburn did not attend in person, but Barbra's acceptance speech gathered some attention because of her see-through pant suit. Here is link to a clip of the speech. 
Best of Barbra – Song – THE WAY WE WERE
This is a tough one, since there are SO many tunes to choose from spanning a 50+ year career. The Way We Were (from the movie of the same name) was composed by the late Marvin Hamlisch and lyrics were written by Marilyn and Alan Bergman, all close friends of Barbra's over the years. The song topped the Billboard charts at Number One for 3 total weeks and won the Oscar for Best Song in 1974 and the Grammy for Song of the Year in 1975. Here is a link to the  lyrics, opening with ….."Mem'ries like the corners of my mind"….
Best of Barbra – Album – THE BROADWAY ALBUM
Another tough choice….Guilty was also in the running, but I'm standing by this classic collection of Barbra singing songs from her roots of Broadway in New York. It was released November 5, 1985 as Streisand's 24th studio album. It became a classic among fans worldwide and went as Number One in the USA and earned Barbra a Grammy for Best Female Vocalist in 1986. One of my favorite Bernstein/Sondheim songs from West Side Story is on this album, "Somewhere". Here's some more info about the making of the album from the Barbra Archives. 
Best of Barbra – Book – STREISAND BY JAMES SPADA
Many to choose from again, but until we get it from the horse's mouth (Barbra is working on her own memoir due in 2017!) I love this biography of Barbra,  STREISAND HER LIFE by author/fan James Spada from 1995. It is accurate, fair and filled with info that the reader will know how much time and research went into this definitive bio. James Spada knows his stuff about Barbra. He was involved with Barbra Quarterly in the late 1970's and early 1980's with delighted fans with any and all info/photos available on the superstar.
This is a very short list of some of the Best of the Best of Barbra. What do you think? Agree or have some of your own choice that are must have/listen/watch/reads?
The Ultimate Blog Challenge continues……stay tuned for more…..daily!