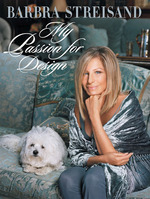 With the news that Barbra Streisand is going to write her memoir for release in 2017 by Viking Press, it's time to take a look back at her first book by the same publisher, "My Passion For Design" released in 2010.
The photographs and her eagle eye attention to detail are certainly evident in her large format, hardcover book about her current Malibu estate. Barbra loves architecture and construction. She has a style like no other and writes about this massive undertaking of landscaping and decorating every inch of her homes.
Her love for Early American furniture and artwork comes out in her descriptions and captions of her plan and vision. This book is like a private tour into Barbra's world. Soon after its release, the book became the focus of a play about Barbra's unique basement on the property called Buyer and Cellar. Barbra's huge and elegant doll collection is housed in the basement, as if it were antique shops lined up on antique row. The play was a fictional story as if Barbra had an actual storekeeper running the place. I saw it in San Francisco last fall and thought it was very clever and funny. It was over the top at moments, but enjoyable to Streisand fans and non fans alike.