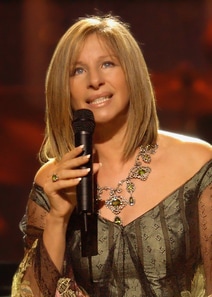 Many people have a bucket list. Things they want to do at least once in their lifetimes, before they die. Well, as far as Barbra Streisand goes, I've completed my bucket list!
I've met Barbra twice in person. Both times were at events in Beverly Hills. One was the NOW Luncheon where she was being honored. And the other was at the SCOPUS AWARDS where again she was being honored. Both events happened in 1984, long before anyone ever thought that Barbra would overcome her stage fright and actually sing in concert again.
That brings me to the other part of my bucket list: hearing Barbra in concert. I always said that I would go anywhere, anytime to hear Barbra sing, that is until the One Voice Concert came along. It was held in her own Malibu backyard in 1986  and was by special invitation only. And it cost $2,500 a ticket. So that was a no go. I knew some folks that were lucky enough to go, and at least there was an album and video of the night's concert for the rest of us.
Fast forward to the 1993/1994 New Year's Eve/New Year's Day Concert in Las Vegas. The tickets to the concert went on sale in November. I was on the phone, dialing and re-dialing to finally get through to a real person at 10pm PST. I opted for the $400 tickets which seemed like a million bucks to me then! Still does in some ways. Barbra was expensive, but I was not going to miss this bucket list chance. Earlier that day I sort of gave up thinking I would get through, so I participated in some retail therapy and went out and bought an expensive B&W HP laser printer. After that purchase and with the BJS tickets later that evening, my credit card company called to check it they were real purchases or had someone stolen my credit card! It was real I told them! Mission accomplished. I had that trusty 4MP for almost 20 years and my Barbra memories of a show that was a dream come true for any fan.
I went to the New Year's Day concert at the MGM Grand January 1, 1994. My $400 seat were good, a little to the left of the stage. To say that my all my wildest dreams were exceeded is the truth, nothing but the truth. I can not think of a BJS fan that was disappointed. To the contrary, it was better than I could have expected. Barbra was so funny and when she sang with Marlon Brando on the screen behind her, it was one of my favorite moments for sure.
When the tour in 1994 happened after that, I had one amazing week in June. Two show in San Jose and one in Los Angeles. I couldn't believe that I had waited so long to hear Barbra live and then saw her three times in one week. How lucky can you get?
Since that time I've seen Barbra on each of her tours. One show more amazing than the next, but this last one was extra special. I couldn't go during August due to family commitments, but when four more dates were announced, I bought a seat for the show in Sunrise, FL. I flew from CA to FL for less than 48 hours in a whirlwind of excitement. I met up with some Barbra buddies and was on Cloud Nine for weeks after. The items on my Barbra bucket list have been completed. Anything else that comes my way will be icing on the cake.