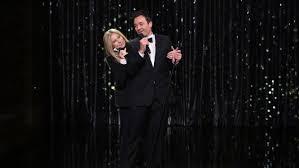 Here is a quick clip from Barbra's Appearance on Tonight Show with Jimmy Fallon. After more than 50 years, Barbra Streisand made her triumphant return to late-night TV by taking over Monday's "Tonight Show." Jimmy Fallon joined Barbra in 3 medleys as her duet partner: Elvis, Blake Shelton and Michael Buble!
Her new album Partners is climbing the charts and some say she will debut at #1 on Billboards album list. She is headed toward a record 6th decade of number one albums. Keep posted!
Don't forget to visit
The i love barbra Catalog
website for newly listed Streisand memorabilia today!