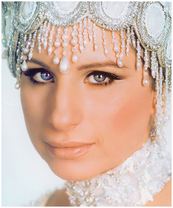 The official website for Barbra Streisand is
www.barbrastreisand.com
. If you are a fan and haven't visited it yet, it's worth a look. You can get News, Music, Articles of Interest, Truth Alerts, Community, Film/TV, Partners and a place to Shop. It is filled with information for a person who already loves Barbra and for those who are newer fans.
There are constant updates organized by entry dates, under the categories listed above as well as links and ads along the right hand side of the page. It can be read in 5 different languages and also is a site that you can join to get updates and other news on Barbra. 
It is a very easy site to navigate and has a lot of info to read, topics that Barbra herself is passionate about like "Woman's Heart Health" and "Climate Change" including screen shots of some of the social media that Barbra is now sending and receiving.
Under the Film/TV links you can see work and appearances separated by decades. It lists events and shows permalinks with more detail when clicked. Barbra's Grammy Awards appearances and when she was at Academy Awards and on interview shows with clips and statements are all listed. It is a great reference section of the website for sure.
In order to participate in the chat forum, one must register and log-in under the topics shown or create a new one. Intelligence exchanges are encouraged and most of the fans are thoughtful and passionate in their statements.
If you haven't been lately or at all, go check it out and see for yourself. Barbra Streisand's official website is "a work in progress" like the superstar herself.
It is a very well produced and informative celebrity site! I would like to see more photos of Barbra, personal and work related but overall it's outstanding.
Visit Anne Z's site: www.ilovebarbra.com
#blogboost
#greateststarbyfar
#barbrastreisand