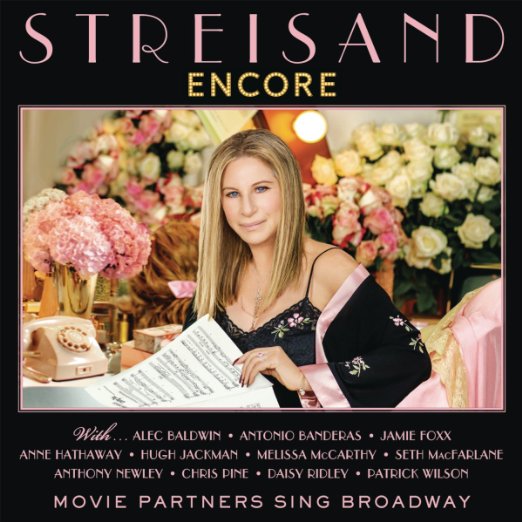 For the 11th time, surpassing Elvis Presley, Barbra Streisand has reached the Number One Spot on the Billboard 200 for Record Albums with her latest release,
Encore
.
Her other number one albums include "Partners" (2014), "Love Is the Answer" (2009), "Higher Ground" (1997), "Back to Broadway" (1993), "The Broadway Album" (1986), "Guilty" (1980), "Barbra Streisand's Greatest Hits, Volume 2" (1979), "A Star Is Born" (1977), "The Way We Were" (1974), and "People" (1964).
Barbra beat out Florida Georgia Line, Britney Spears & Young Thug Debut in Top 10 on Billboard 200. Her sales were 149,000 equivalent album units earned in the week ending Sept. 1, according to Nielsen Music. Florida Georgia line sold 145,000 and Britney sold 91,000.
The current list of all-time leaders in number one albums is: The Beatles with 19, Jay-Zee with 13, Barbra tied with Bruce Springsteen with 11, Elvis 10. Barbra outpaces the next female in line, Madonna with 8.
The release of "Encore" comes 52 years after Streisand's first number-one album "People," released in 1964.
One more fun fact: Streisand continues to be the only act to have achieved No. 1 albums in the last six decades — the 1960s, 1970s, 1980s, 1990s, 2000s and 2010s. 
Nearly all of Encore's first-week unit total was comprised of traditional album sales — 149,000. And of that figure, physical album sales (CDs and vinyl LPs) equated to 126,000 — the largest sales week for a physical album in 2016. 
Encore is a collaborative effort with Streisand singing with many current movie stars like Hugh Jackman, Chris Pine, Antonio Banderas and Alec Baldwin.  The songs are all from Broadway shows and feature Anne Hathaway and Daisy Ridley (Star Wars: The Force Awakens) "At the Ballet," from A Chorus Line; Jamie Foxx guests on "Climb Ev'ry Mountain" (from The Sound of Music) and Melissa McCarthy duets on "Anything You Can Do" (from Annie Get Your Gun).
Barbra began August of 2016 going on a short concert tour and then finished with some television appearances on the Tonight Show with Jimmy Fallon and CBS's Sunday Show. She was joined by one of her Encore partners, Alec Baldwin, on the show, and also did a humorous duet with Fallon (who impersonated Donald Trump). Streisand's team also released many clips from the recording sessions for the Barbra fans to enjoy, building a buying frenzy in physical album purchases. Encore's physical sales were bolstered by the availability of a deluxe edition of the set sold through Target, which came with four bonus solo Streisand performances.
People who attended her concerts were treated to a free album coupon that helped album sales. Others who have used this method include Kanye West and Justin Bieber, Janet Jackson and Tom Petty.
Making records is nothing new for Barbra Streisand. Selling lots of records in nothing new either. To do so at the age of 74 is simply remarkable. Go Barbra!