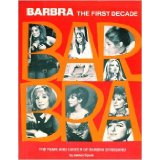 Okay gang, I am getting back on track! I will be blogging every day this month, July 2015. Subject: Barbra Streisand. Stay tuned and leave your comments. 
Looking down the road, Barbra will be writing her autobiography and setting the record straight, where many authors have failed. It's coming 2017. In the meantime, what biographies have you read and which ones are truthful and factual in your opinion?
I would have to begin with one of my all time favorite bios by author and fellow Barbra fan, James Spada. Not only does he love Barbra, he is an excellent writer and researcher. Going back to "Barbra Streisand: The First Decade – The Films and Career", fans enjoyed many rare photographs and became students of Barbra's work. It covered Broadway, her albums and singles, television specials and movies. Fans like me, devoured every page studying the first ten years of the career of Barbra Streisand. 
I was fortunate enough to share stories with Jim back in 1977 in San Francisco at our mutual friend's house (Rafe Chase). What a treat to be able to ask questions and offer my opinions and love for Barbra with an authority like James Spada. 
It is a must have in your Barbra book library. If you for some reason don't have it, here is a link to the store at my website: ilovebarbra.com. 
More in future blog posts about other biographies on the Greatest Star!
#blogboost