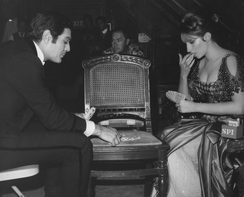 Yesterday my day started with the sad news that Omar Sharif passed away at age 83. He had been ill with Alzheimer's Disease according to reports in May. My immediate thoughts turned to
Funny Girl
and how handsome and perfect he was as Nicky Arnstein to Barbra's Fanny Brice in that movie.
"Nicky Arnstein, Nicky Arnstein, what a beautiful, beautiful name" Fanny (Barbra) sang when she first layed eyed on him on the big screen. "You Are Woman, I am Man" also came to mind as the actor, Omar Sharif sang to his leading lady, quite well I might add. And who could forget the finale "My Man" sung about Nicky Arnstein at the end of the film? Vivid and powerful film moments in my memories of Omar Sharif.
There were other brilliant roles too: Lawrence of Arabia, Doctor Zhivago and countless others were trademark movies for the dark and mysterious actor. He also loved playing bridge and was world class. He spoke a few languages and had a reputation for loving the night life.
Here's what Barbra Streisand said about him on her webpage:
       
JULY 10, 2015, 3:45 pm
Omar was my first leading man in the movies. He was handsome, sophisticated and charming. He was a proud Egyptian and in some people's eyes, the idea of casting him in 'Funny Girl' was considered controversial. Yet somehow, under the direction of William Wyler, the romantic chemistry between Nicky Arnstein and Fanny Brice transcended stereotypes and prejudice. I feel lucky to have had the opportunity to work with Omar, and I'm profoundly sad to hear of his passing.

–Barbra.
What do you remember about Omar Sharif and his career?
#omarsharif
#blogboost
#ilovebarbrablog
#barbrastreisand
www.ilovebarbra.com