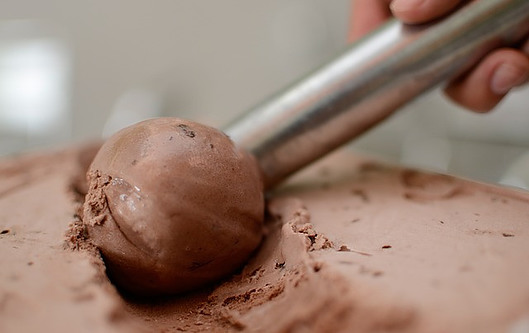 Barbra Streisand's Love of Ice Cream
Barbra Streisand is a world-renowned singer, actress, and filmmaker. But she's also a big fan of ice cream. In fact, she's so passionate about the frozen treat that she has her own ice cream flavor named after her.
Streisand's love of ice cream started when she was a child. She would often go to the corner drugstore with her mother and order a scoop of chocolate ice cream. She loved the way the cold, creamy treat made her feel.
As she got older, Streisand's love of ice cream only grew stronger. She would often order ice cream after a long day of work or on special occasions. She even started experimenting with different ice cream recipes at home.
In 2012, Streisand's love of ice cream was recognized when McConnell's Fine Ice Creams created a flavor in her honor. The flavor, called "Barbra Streisand's Coffee Ice Cream," is made with real coffee beans and has a rich, creamy texture.
Streisand is a big fan of McConnell's ice cream and has even been known to send boxes of it to friends and family. She says that it's the best ice cream she's ever had.
If you're ever in the mood for a delicious and decadent treat, be sure to try Barbra Streisand's Coffee Ice Cream. It's sure to please even the most discerning ice cream lover.
Here are some other fun facts about Barbra Streisand and ice cream:
Streisand's favorite ice cream flavor is coffee.
She has been known to eat ice cream for breakfast.
She once said that ice cream is her "guilty pleasure."
So there you have it! Barbra Streisand is a true ice cream lover. If you're a fan of Streisand or ice cream, be sure to try her favorite flavor. You won't be disappointed.
———————————————————————–
Here is a rare excerpt from a paperback book published in 1967. I have a copy listed on my eBay store (as of 6/15/23). Check it out!
Singers & Swingers In The Kitchen: The Scene-Makers Cook Book by Roberta Ashley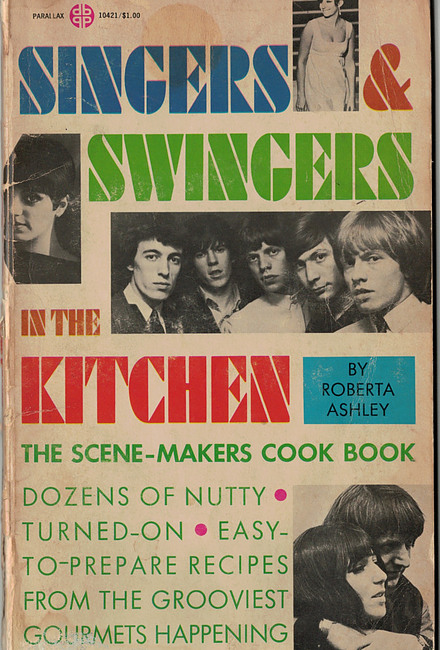 Inside the book in the dessert section of the book is also this rarity.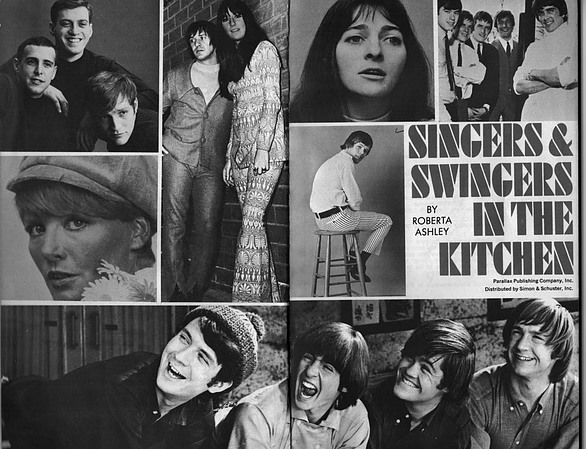 Do we believe that Barbra really made this? Or even had an ice cream recipe?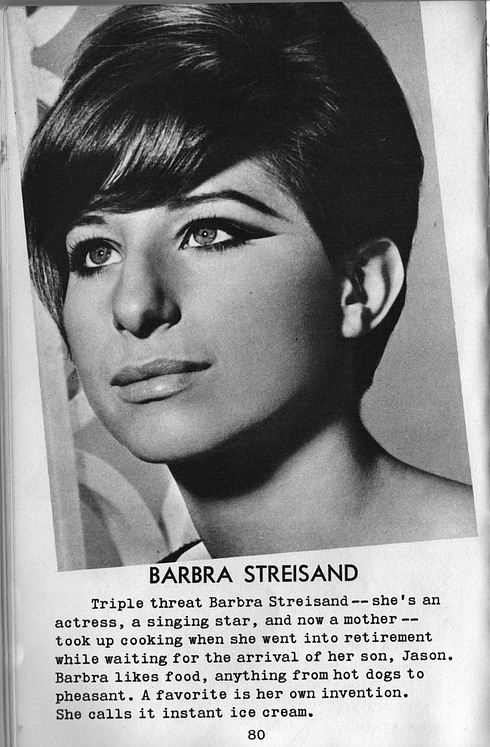 Barbra Streisand's Homemade Ice Cream Recipe
Ingredients
for the ice cream
1 cup whole milk
24 marshmallows
1 teaspoon instant coffee
1 cup heavy cream

Directions
Turn your refrigerator to the coldest point. Pour milk into a saucepan, heat, and gradually add the marshmallows. Mix until the mixture is smooth; add the instant coffee. Let it cool a bit. Whip the cream until stiff.; mix cream and marshmallow mix together and pour into an empty ice tray. Freeze. 
Barbra likes this with pretzels, believe it or not.
Here is the image from the book, of Barbra's recipe: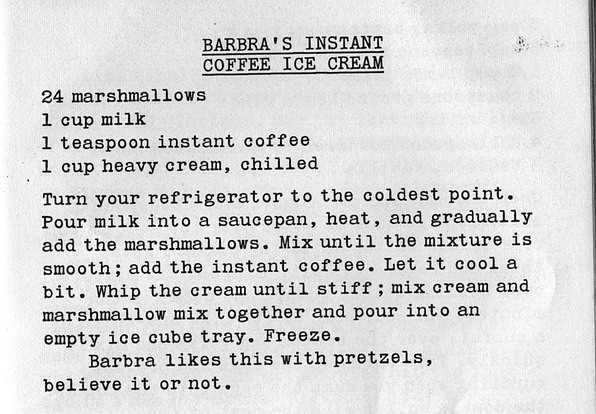 As a side note, this recipe is excerpted from Roberta Ashley's 1967 cookbook Singers & Swingers in the Kitchen-The Scene Makers Cook Book. Dozens of nutty * turned-on * Easy-to-prepare recipes from the grooviest gourmets happening.
---
The History of Ice Cream
Ice cream has a long and storied history that dates back to ancient times. The first known ice cream-like dessert was made in China over 2,000 years ago. It was made with milk, rice, and camphor. The Chinese also invented the first ice cream maker, which was a bamboo tube filled with ice and salt.
Ice cream made its way to Europe in the 1st century A.D. when Roman Emperor Nero Claudius Caesar sent runners into the mountains to collect snow, which he then flavored with fruit and honey. The first ice cream parlor in Europe opened in Florence, Italy, in the 16th century.
Ice cream was introduced to the Americas in the 17th century by the Spanish. The first ice cream parlor in the United States opened in New York City in 1776.
Thank you Agnes B. Marshall
Agnes B. Marshall was an entrepreneur who pioneered modern ice cream. Check out this article by Michael Waters written August 9, 2020. Very interesting story.
In the 19th century, ice cream became more popular as new technologies made it easier to produce. In 1843, Nancy Johnson invented the first hand-cranked ice cream maker. In 1851, Jacob Fussell opened the first commercial ice cream factory in Baltimore, Maryland.
In the 20th century, ice cream became even more popular as new flavors and innovations were introduced. In 1926, the first soft-serve ice cream machine was invented. In 1960, Ben & Jerry's opened its first ice cream shop in Burlington, Vermont.
Today, ice cream is a popular treat enjoyed by people of all ages all over the world. There are hundreds of different flavors of ice cream available, and new flavors are being created all the time. Ice cream is a versatile dessert that can be enjoyed on its own or used in a variety of recipes. Whether you like it plain, with toppings, or in a sundae, ice cream is a delicious and refreshing treat that is sure to please.
Here are some additional facts about the history of ice cream:
The first ice cream sundae was invented in 1892 by an 11-year-old boy named Frank Epperson. He left a mixture of milk, cream, sugar, and vanilla extract in a metal container on his porch overnight. The next morning, he found that the mixture had frozen into a delicious treat.
The first ice cream cone was invented in 1904 by Ernest Hamwi. He was selling waffle cookies at the St. Louis World's Fair when he noticed that people were using them to scoop up ice cream. He started selling cookies with ice cream inside, and the ice cream cone was born.
The first ice cream truck was invented in 1926 by Harry Burt. He created a small, motorized cart that sold ice cream bars. The ice cream truck quickly became a popular way to sell ice cream, and it is still a popular sight today.
More on Barbra
Barbra Streisand is one of the most iconic and successful entertainers of all time. She has won numerous awards, including two Oscars, eight Grammy Awards, five Emmy Awards, and a Tony Award. She is in the select group of EGOTs, performers who have won an Oscar, a Grammy, an Emmy, and a Tony Award.
Streisand was born in Brooklyn, New York, in 1942. She began her career as a singer and actress in the early 1960s. She quickly became a star, thanks to her powerful voice and her charismatic personality. She has starred in many successful films, including "Funny Girl," "The Way We Were," and "Yentl." She has also released dozens of albums, many of which have been certified platinum or multi-platinum. She is one of the best-selling music artists of all time, with over 60 million albums sold worldwide. Click here to get the latest stats from The Barbra Streisand Archives by Matt Howe.
Streisand is not only a talented singer and actress, but she is also a successful businesswoman. She has her own production company, Barwood Films, and she has directed several films, including "Yentl" and "The Prince of Tides." She is also a successful author, and she has written several books, including her soon-to-be-released autobiography, "My Name is Barbra."  As an Amazon Associate, I earn from qualifying purchases.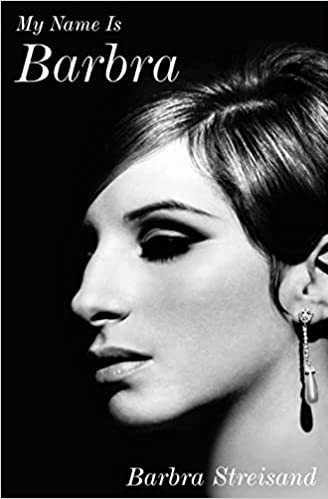 ---
Ten Facts About The Greatest Star
Streisand is a true icon, and she has inspired generations of entertainers. She is a role model for women everywhere, and she is a reminder that anything is possible if you set your mind to it.
Here are 10 additional facts about Barbra Streisand that you might not know:
She was the first woman to win an Oscar for Best Actress for a musical film.
She was the first woman to direct a film that was nominated for an Academy Award for Best Picture.
She is a vocal advocate for environmental causes.
She is a philanthropist and has donated millions of dollars to various charities.
She is a very private person and rarely gives interviews.
She is the mother of Jason Gould, who has his own musical career. Check his release Dangerous Man here.
Barbra's favorite number is 24!
She has a rose named after her.
She is an inspiration to millions of people around the world.
She is a true legend.
I hope you enjoyed learning more about Barbra Streisand. She is a truly amazing woman, and she has made a lasting impact on the world.