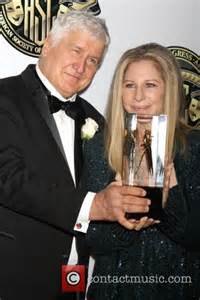 Photo credit: ContactMusic.com
The 29th Annual American Society of Cinematographers Awards at the Hyatt Regency Century Plaza was held on Sunday night, February 15, 2015.

From an article in Variety (dated 2/15/15):
"Among the honorary award recipients, Barbra Streisand accepted her ASC Board of Governors Award, following in the footsteps of such past designees as Christopher Nolan, Warren Beatty, Jodie Foster and Julia Roberts. The actress-producer-writer-director, whose multi-hyphenate credits include "Yentl," "The Prince of Tides" and "The Mirror Has Two Faces," talked of her wide-ranging experience with cinematographers.

Streisand reminisced about her collaboration with several d.p.'s, including Andrej Bartkowiak, who presented her, and the late Laszlo Kovacs. She expressed special praise for Gordon Willis, who died last year — the d.p. on the "Godfather" and known as the prince of darkness for his somber lenswork. "He taught me a lot about light – and the beauty of turning it down."

"I have a strange face," said Streisand, joking about how some talented d.p.'s were able to capture the best sides of her asymmetrical visage and unusual nose."

The normally shy Barbra has appeared at two award shows this season: the DGA's and the ASC awards. Nice to see how beautiful and relaxed she looks. It's all about the work!