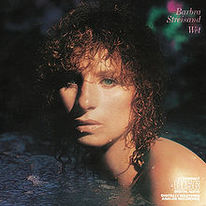 We've had a lot of rain in the past week here in Marin County, CA. I live in Mill Valley near Mount Tamalpais and I am announcing that our drought is over! I've never seen so much water in the form of rain and run-off. We also have had some major King Tides and streets have flooded. All of this rain made me think of all the songs Barbra Streisand has sung with water in the title. That's an easy answer, just look back at the album
"WET"
from 1979. It was produced as a concept album with all the songs refering to water. The first and last words of the album are the word "Wet", too. 
Here is a list of the songs and their composers and lyricists:
1."Wet" Sue Sheridan, Barbra Streisand, David Wolfert 4:23
2."Come Rain or Come Shine", Harold Arlen, Johnny Mercer 3:49
3."Splish Splash", Bobby Darin, Jean Murray, Streisand 4:06
4."On Rainy Afternoons", Alan Bergman, Marilyn Bergman, Lalo Schifrin 4:20
5."After the Rain", Alan Bergman, Marilyn Bergman, Michel Legrand5:08
6.""No More Tears (Enough Is Enough)" (Duet with Donna Summer, Paul Jabara, Bruce Roberts 8:19
7."Niagara" , Carole Bayer Sager, Marvin Hamlisch, Bruce Roberts 4:37
8."I Ain't Gonna Cry Tonight" , Alan Gordon 3:44
9."Kiss Me in the Rain"  Santo "Sandy" Farina, Lisa Ratner 4:20
The biggest hit from this record was "Enough is Enough (No More Tears) with Donna Summer. It was the disco era and Streisand's son Jason a teen at the time loved Summer and asked his mom to sing with her. They did of course and even had a couple of long notes in the song that both held forever. Barbra is said to have won the duel and Summer collapsed on the floor after!
Another well known song from the album is Bobby Darin's Splish Splash from decades before. Barbra was very playful on the song and made it her own. The album cover photograph was taken in Barbra's own hot tub at her Malibu house by Mario Casilli. More facts about the album "WET" can be found at the Barbra Archives.
I'm hoping things will dry out, but as I write this post it's raining again. I think I'll put on WET and enjoy!