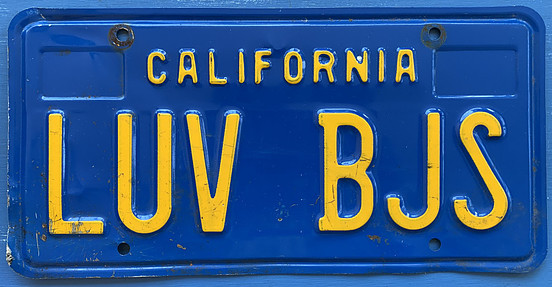 Do You Love Barbra?
As a long time Barbra Streisand fan, I have enjoyed collecting memorabilia from her career. I have some things displayed in my office. I have books shelves of Barbra books organized. I have binders of Barbra movie stills sorted by movies.
Most items are in large plastic tub and bins to keep moisture out and protect my valuables. I have hundreds of magazine covers. Each piece can bring back a memory or story of how I obtained it. I am going to be sharing lots of my personal collection on this website for your enjoyment and mine too!
Record Albums, Singles, Foreign
If you have been a Streisand fan for any length of time, then you certainly have the music! Older fans like me, cherish their LP record albums! Do you also have 45 RPM Singles? How about the ones with Picture Sleeves? And foreign vinyl too? Is your Barbra music on your computer and iPhone too?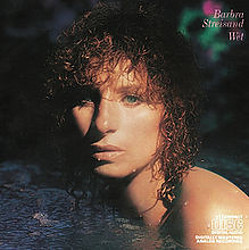 Magazines, Books, Posters, Movies
What about magazines with Barbra on the cover? How about biographies? Posters from her concerts and movies? DVD or even VHS and Laser Discs of her movies? Do you collect it all? Or do you specialize and just focus on certain Streisand collectibles?
I recently found a RARITY paperback book from 1967. It's called: Singers, Swingers in the Kitchen: The Scene-Makers Cook Book by Roberta Ashley. Check out my post about the bookBarbra Streisand's Love of Ice Cream and Barbra's love of coffee ice cream!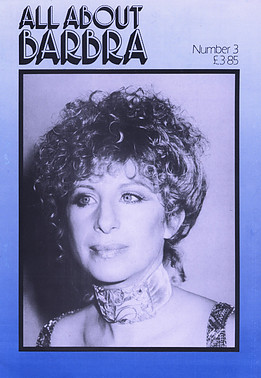 Photo by Anne Zarraonandia – Scopus Dinner 1984
Clothing: T-Shirts, Sweatshirts, Hats
Then there is the clothing….t-shirts, hats, scarves, sweatshirts, etc from the various concerts Barbra has done over the years.
Photos: Stills and Candids
What about movie stills and candid photos? I have mine in many, many, thick binders.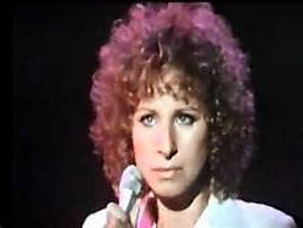 My Barbra Streisand collection is quite extensive. I have collected for decades and have spent oodles and oodles of money over the years. You may have some of the same things I do, and possibly other items that I would only dream of having in my collection. Each person's BJS collection is unique and special to them! Here is a list of some of my favorite collectibles!
Please feel free to share some of your Barbra valuables with me! I am excited to see what you have!
Some of My Favorite Things – Barbra Style
My Personalized License Plates
I have had two different vanity plates on my vehicles. Do you have Streisand vanity license plates for your car?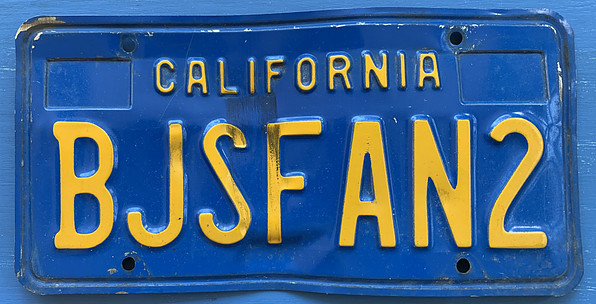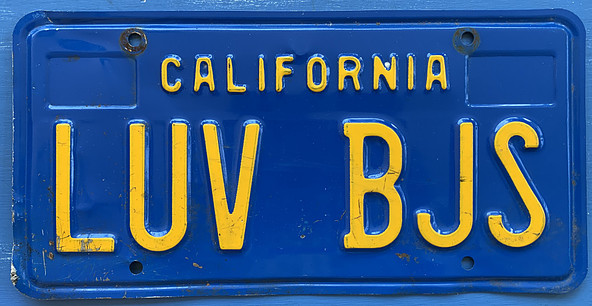 Streisand Superman – 5 Foot Cardboard Stand-up Display

My stand-up display has seen better days, condition wise, but it's fun to look at! As I recall, I asked for it from a local record store back in 1977.

Barbra Wine & Champagne
The Barbra Wine was sold for a short time by Celebrity Cellars/Sony. I bought a few bottles of red and a few bottles of white from a retail distributor in 1995. The red wine bottles had gold etchings in the glass – really fun! They also had a series with Paper Labels. They continued to sell Barbra wine in the early 2000s for some of Barbra's concerts.
Besides Barbra wine, Celebrity Cellars had others stars in the collection as well, like The Rolling Stones, Madonna and Kiss. Most of their collections have been long sold out!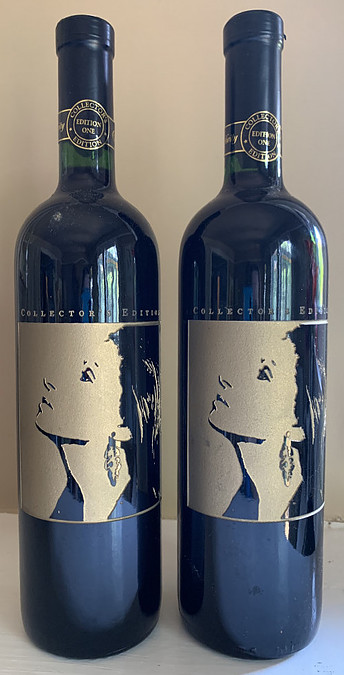 The 1995 California Cabernet Sauvignon

The 1994 Barbra Champagne (Sparkling Wine). Originally sold at the MGM Grand New Year's Concert 1993/94, but taken off the market because the MGM Grand didn't have the proper liquor license. It became a rarity in the Barbra collectible world! Rosie O'Donnell's Show contacted The i love Barbra Catalog and purchased a bottle from Anne Z a few days before Barbra appeared on her talk show at the end of 1994. They opened and drank it on air together (at 30:49) with Barbra's husband, James Brolin. Barbra said she usually liked champagne with a little peach juice in the bottom of the glass!
A Star is Born Puzzle
If you love A Star is Born as much as I do, then this is a must have collectible. Mine is still sealed and the box has a few dents, but it's a treasure!

"I'd Rather Be Blue" – Funny Girl Sheet Music
Sheet music is so fun to collect, especially if Barbra is pictured on the front! From the movie Funny Girl, here is my copy of "I'd Rather Be Blue Over You (Than Be Happy with Somebody Else)". As a collector, I buy what I first find, and then try to find another copy in better condition. This copy has some surface wear and marks, but it's still a favorite of mine.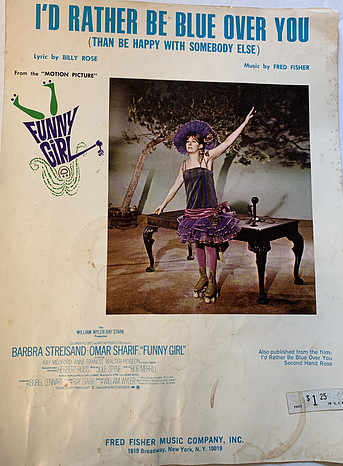 "Sempre Verde" – Evergreen Sung in Italian
Barbra sang her Oscar winning song (written by Barbra and Paul Williams) in English, Spanish, French and Italian. My favorite is the Italian version: Sempre Verde! They were all released with their own picture sleeves. They have become popular collectibles with many of the Barbra fans, even if they no longer own a turntable!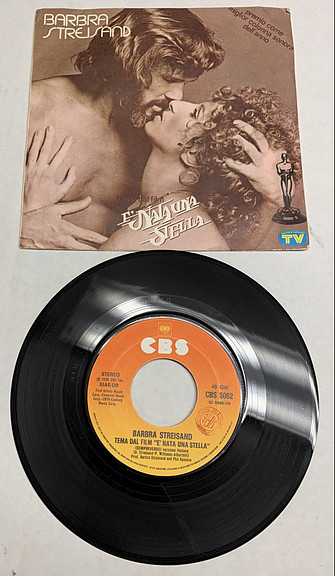 A Signed/Canceled Check by Barbra Streisand for $20, 622.06
Autographs are fun to collect. I found this check from a dealer and we made a barter for it. I wanted the largest check amount I could find! $20K is not too shabby, especially from 1987! This is the real deal!

Please check this site for additions to my BJS Memorabilia Collection posts!