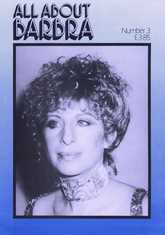 I
t's January 1st, 2017 and the first day of the 31 Day Ultimate Blog Challenge.
For the next month I will attempt to blog every day it hopes of getting some new and interested readers of all things Barbra…Streisand that is!
It is an exciting time to be a Barbra fan with the Grammy Awards just ahead. But did you know that Barbra will be participating in a Q & A this Thursday, January 5th? A Conversation With Barbra Streisand will be moderated by GRAMMY Museum Executive Director Bob Santelli and will feature an intimate discussion with Streisand. It will be held in Los Angeles at the Clive Davis Theatre with American Express as the sponsor of the event.
This is a rare chance to hear Barbra herself discuss aspects of her musical and performing career up close and personal. The event helps the Grammy Museum Education Programs. Last year's programs helped more than 29,000 in after school programming, Museum tours and conversations. 
Barbra should have lots to say since she has received eight Grammys for her recordings and four inductions into the Grammy Hall of Fame. This Streisand is currently nominated for Best Traditional Pop Vocal Album for Encore: Movie Partners Sing Broadway for the 59th Annual GRAMMY Awards®.  The Grammys Awards will be held this year on Sunday February 12, 2017 and can be seen on the CBS network. 
Barbra just finished a remarkable tour in 2016 that grossed 46 million dollars. Not bad since dates were limited to 12 shows. I was lucky enough to enjoy the show in Sunrise, Florida on December 3, 2016. It was an early Christmas present for me and many other fans. What a night! More about that concert later.
Stay tuned for info about this unique and personal event. I have feelers out for a couple of Barbra fans who will be attending and will be able to give us a personal view of the evening. 
I hope you come back during my participation in the Ultimate Blog Challenge.
​ I look forward to sharing Streisand news and info all month long! 
​Happy Days!