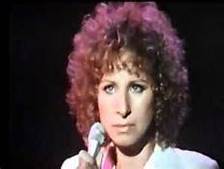 There is a treasure trove of short Barbra Streisand music videos on Barbra's Own YouTube Channel. One of my favorites is from the album
"Release Me"
of
"One More Look At You"
from
A Star is Born
. Barbra tells us about its recording and filming in her own words. Definitely worth a look at. 
Another goodie is "You'll Never Walk Alone" which was sung at the Emmy's just after 9/11. It is a powerful message and memory of that time in our history. The background singers and images of flags and memorials gave me chills then as well as watching it freshly again. One of her best live TV performances for sure.
Another tearjerker was when Barbra sang at Marvin Hamlisch's Funeral Service in 2012. How she held it together during it, is beyond me. They were such good friend Barbra sang "The Way We Were" and "Through the Eyes of Love" at the tribute. 
What other Barbra videos are your faves on You Tube. Post in the comments below and I'll make sure I check them out.

​