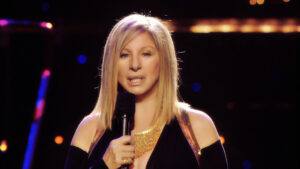 Mark your calendars! Barbra's concert from her successful tour in 2016 is set to begin showing on Netflix, on November 22, 2017.
"The Music, The Mem'ries and The Magic" was filmed at her final concert last year in Fort Lauderdale. I was unable to be at that show, but I was at the show the Saturday night before. It was beyond spectacular, especially for long-time Streisand fans.
Barbra was in good voice and displayed her charm and wit! She has been around a long time and the concert paid tribute to her longevity by featuring her Number One albums for over six decades! Yes, six decades!
I loved seeing the screen behind her showing ALL her album covers. Seeing all the varied looks and hairstyles was wonderful. She has always been THE VOICE but a trendsetter too! Who could forget the album cover shot from an early album "People" on the sand at the beach? Or the crazy outfit on the album cover from the film "The Owl and the Pussycat?" Or "Superman"? It goes on and on!
If you have seen Barbra in concert, I know you will be watching it on Netflix, on Thanksgiving Eve. If you have never seen Barbra in concert, then you MUST watch to see what a legend is all about! There will never be another like her.
Here is the official trailer for the upcoming Netflix showing! Enjoy!