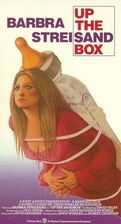 It is Award Season time. The Golden Globes are this weekend for Best in Movies and Television. Next month is the Grammys for Music and on it goes. It makes me think of the list of movies that Barbra Streisand has made in her career. Now it's not a long list, compared with her peers like Meryl Streep but its fun to take a look at the list and see what we might fancy watching for nostalgia's sake. 
Funny Girl 1968 Directed by William Wyler
Barbra's first film, Best Actress, Omar Sharif co-star
Hello Dolly 1969 Directed by Gene Kelly
Barbra was probably a little young for Dolly, but a rousing musical fan favorite!
On A Clear Day You Can See Forever 1970 Directed by Vincent Minnelli (Liza's Dad), Gorgeous costumes by Cecil Beaton. A young Jack Nicholson shows up as step brother Tad.
The Owl & the Pussycat 1970 Directed by Buck Henry
First non-musical, first not period piece. Barbra actually swears in this film!
Up the Sandbox 1972 Directed by Irvin Kershner
Barbra as a young housewife with outrageous fantasies, including dancing with Fidel Castro. One of her lowest grossing films, but quirky and enjoyable. Non-singing.
What's Up Doc? 1972 Directed by Peter Bogdanovich. Co-stars Ryan O'Neal. Screwball comedy with wild chase scenes in San Francisco.
The Way We Were 1973 Directed by Sidney Pollack. Streisand and Redford, what more can you say? Love story set in the 1940's. Song of the same title plays over the credits. A tear jerker. Katie and Hubbell……
For Pete's Sake 1974 Directed by Peter Yates. Lighthearted comedy with the misadventures of a Brooklyn housewife.
Funny Lady 1975 Directed by Herb Ross. Sequel to Funny Girl. Omar Sharif is back in a small role, but Fanny Brice is now with Billy Rose played by James Caan. Filled with musical numbers and costumes! Fanny Brice's son-in-law Ray Stark produced and Barbra ful-filled her film obligation with him.
A Star is Born 1976 Directed by Frank Pierson. Produced by Barbra's boyfriend at the time, Jon Peters. A remake but takes place in 1970's rock 'n roll culture. Barbra's star is rising as Kris Kristofferson's is falling. Evergreen won an Academy Award as Best Original Song for Barbra and Paul Williams.
The Main Event 1979 Directed by Howard Zieff. The return of Ryan O'Neal this time as a boxer now owned by Barbra. A comedy and a big hit at the time.
All Night Long 1981 Directed by Jean-Claude Tramont. A box office flop. Co-stars Gene Hackmand. A couple of scenes are gems with Barbra as different as she can be on film.
Yentl 1984 Directed by Barbra Streisand. Love it or hate it, a masterpiece from Barbra. She wrote, produced, starred and directed this musical. Yentl is set in Europe and she wonders why a girl can't study the Talmad so she dresses as a boy. Beautiful!
Nuts 1987 Directed by Martin Ritt. Great cast. Heavy drama with Richard Dreyfuss.
The Prince of Tides 1991 Directed by Barbra Streisand. From Pat Conroy's best seller, Barbra captures some amazing scenery and performances. Nick Nolte co-stars.
The Mirror Has Two Faces 1996 Directed by Barbra Streisand. Jeff Bridges as an absent minded professor. Lauren Bacall plays Barbra's mother. Love happens to older people too!
Meet the Fockers 2004 Directed by Jay Roach. Barbra and Dustin Hoffman play the parents of Ben Stiller. Nothing more to say. Perfect casting. Robert Deniro is Stiller's future father in law. What can go wrong? Stressful comedy!
Little Fockers 2010 Directed by Paul Weitz. Another sequel to Meet the Parents (and see above). Big box office, panned by the critics. Actors take home big pay checks. Young people see Barbra Streisand for the first time in some cases. Yikes. Show them Funny Girl!
The Guilt Trip 2013 Directed by Anne Fletcher. Streisand and Seth Rogan as mother and son who go on a country long road trip. A touching movie, honestly.
​How many have you seen? Favorites?