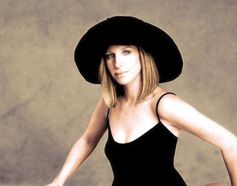 We all know Barbra Streisand is the "Actress Who Sings" but she is also a songwriter! Here are the songs that have credits with B. Streisand behind them.
1) Love Theme From A Star is Born (Evergreen) Music by Barbra Streisand, Lyrics by Paul Williams. From the album A Star is Born Soundtrack.
2) By the Way – Music by Barbra Streisand, Lyrics by Rupert Holmes. From the Album Lazy Afternoon
3) Ma Premiere Chanson from the album "Je M'Appelle Barbra". Barbra's first melody dated 1966. Lyrics by E. Marnay.
4) Nuts Soundtrack – 13 minutes of instrumental music including "Here We Are At Last"  Music by Barbra Streisand and Lyrics by Richard Baskin (also appeared on "Emotion"
Five instrumental compositions by Barbra Streisand
5) You're A Step In The Right Direction from the album "Emotion"
(J. Mellencamp / B. Streisand)
6) From the Superman album: 
Don't Believe What You Read [3:37] 
(B. Streisand / R. Nagle / G. Mathews)
Answer Me [3:16] 
(B. Streisand / P. Williams / K. Ascher)
7) From the Wet album: Wet [3:56]  
(D. Wolfert / S. Sheridan / B. Streisand)
8) From the Till I Loved You album: Two People (B. Streisand / M. Bergman / A. Bergman)
9) From Barry Gibbs's Guilty Pleasures:  Above The Law (Duet with Barry Gibb) (Barry Gibb, Barbra Streisand & Stephen Gibb)
Am I missing any? Let me know! An actress who sings and composes!