It is January and there were a couple of magazine cover stories from this month, slightly different date and way different year, that featured Barbra Streisand.
Let's look back at January 24, 1975. The Magazine is
New Times Magazine
and it's cover story is the controversial article "A Star is Shorn". The topic is all about the making of
A Star is Born
with former hair stylist, Jon Peters, Barbra's boyfriend at the time and the movie powers that be. Even the cover was a hot topic. Was he really Barbra's Svengali?
Here is the link to the article, courtesy of the Barbra Archives.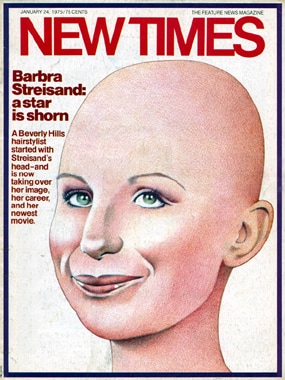 ​Another January magazine cover was from Newsweek Magazine, January 5, 1971. It featured Barbra and
here is the link to the article
. It's fun to look back and re-read stories on Barbra's early days of stardom.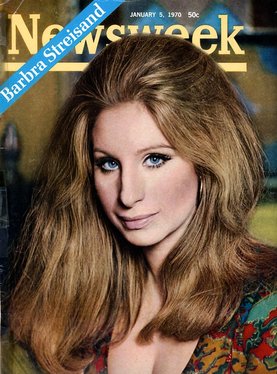 A big event happened in January 1951 on the 9th: Roslyn Kind (Barbra's younger sister) was born. They finally made it on the performing stage together during Barbra's 2012 tour.
On JANUARY 1, 1959 "Barbara" Streisand graduates from Erasmus Hall High with a 93 average and a medal in Spanish. 
JANUARY 8 – 28, 1963 Barbra plays her final engagement at the Blue Angel. The comedy team of Stiller and Meara are her opening act.

And last but not least: JANUARY 18, 1965 
Barbra is one of the entertainers at the Democratic Inaugural Gala for President Lyndon Johnson.